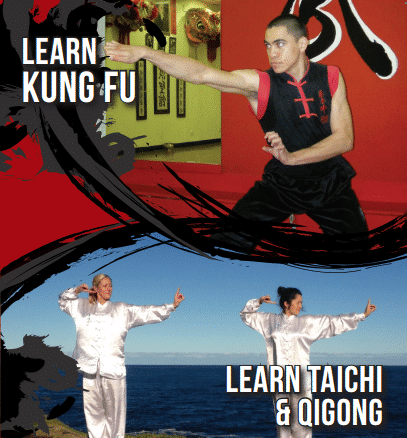 Choy Lee Fut is one of the most versatile martial arts systems in the world.
It includes:
Kung Fu – self defence & a great workout from complete beginners to advanced level with weapons and dummies
Qigong – health & vitality through relaxed movement from complete beginners to advanced exercises and meditation
Traditional Chinese lion dance
We've been teaching Choy Lee Fut in Sydney's Chinatown for over 25 years. We are the headquarters school for Chan Family Choy Lee Fut, an international martial art in over 15 countries.
The best way to learn about the system is to try a free beginner-friendly class.
Click here to enroll in a free Kung Fu class and a free Qigong class.

What are the class times?

Time
Monday
Tuesday
Wednesday
Thursday
Friday
Saturday
Sunday
Morning
+
Day
Kung Fu
Morning Class
6:45am-7:45am
Learn more
Kung Fu
Morning Class
6:45am-7:45am
Learn more
Qigong
All Levels
9:00-10:15am*
Learn more
Instructors
10:30am-12:00pm
Kung Fu
Children's
Learn more
10:30am-12pm
Evening
Kung Fu
Beginners
6pm-7pm
Mixed
7pm-7:30pm
Intermediate
7:30-8:30pm
Learn more
Qigong
Beginners
6pm-7pm
Intermediate
7pm-8pm
Learn more
Kung Fu
Beginners
6pm-7pm
Mixed
7pm-7:30pm
Intermediate
7:30-8:30pm
Learn more
Qigong
Beginners
6pm-7pm
Intermediate
7pm-8pm
Learn more
Kung Fu
San Da
6pm-8pm
Learn more
Kung Fu
Instructors
2pm-4pm

*The Saturday morning Qigong class is not held on the first weekend of each month.


How much are the school fees?

There is an annual membership fee of $100 ($60 from 1st July), which covers the school's insurance.

We have a range of flexible fee options suitable for all levels of commitment:

$350 per term (unlimited access)
$200 per half-term (unlimited access)
$150 per 10 visit pass (valid for 3 months)
$85 per 5 visit pass (valid for 3 months)
$20 single visit/casual rate (does not require membership fee)

Payment is by cash or bank transfer, speak to your instructor or email us at info@choyleefut.org for more information.

Click here for children's class fees.

Where is the school? How do I get to the training hall?

The school is located at 15 Goulburn St, Haymarket (Chinatown) in Sydney's CBD. Below is a map:

On entering the building, go all the way up the stairs and through Grand Master Chen Yong Fa's clinic to the training hall.


When are classes running?

Classes are on at the same time as the NSW public school terms; below are the 2017 dates:

Term 1: Monday 6th February – Sunday 9th April
Term 2: Wednesday 26th April – Sunday 2nd July
Term 3: Monday 17th July – Sunday 24th September
Term 4: Monday 9th October – Sunday 17th December

You are welcome to start any time during a term, even at the end. Our flexible fee options (see below) will mean you can get the most out of all classes.

To find out about our other events (eg. gradings, seminars, Chinese New Year etc), see our news page.

New students can attend any/all of the above classes except the intermediate and instructors classes. The Kung Fu mixed classes are open to all students and alternate between bagwork, basic weapons and forms classes.

Who is the training meant for? Am I fit enough?

Although we run some advanced classes, our general classes are not elite training. There is no assumed knowledge and they're aimed at men, women and children of all fitness levels. The best way to see if our classes suit you is to come and try a free class. Before your first class, we will find out about your general fitness level and any medical conditions you may have. Our instructors continually tailor the classes to take your individual abilities into account. You'll also find that even if you're not very fit and flexible, this will change quickly through regular classes.

How is this school different to other schools?

Every school that teachers martial arts and Qigong/Tai Chi is unique. At Choy Lee Fut Sydney, we are honoured to train Chan Family Choy Lee Fut, a traditional Chinese system of tremendous breadth and depth. Because of this, we are one of the more traditional schools in Australia. Training at Choy Lee Fut, you'll be exposed to practical Kung Fu and Qigong, as well as our style's rich cultural tradition.


How do I enrol?

We encourage everyone to try a free Kung Fu and Qigong class first to see if the system is suitable. Just fill out the form and we'll be in touch to book in your free classes and provide information for attending them. If you've taken those and would like to continue, just arrange to pay the fees suitable to your training frequency (see below) which will entitle you to come to any of the classes.

Do we need uniforms?

Students are required to wear a uniform which can be purchased from your instructors. (NOTE: If you're going for your first free trial class, you're welcome to wear any clothes you're comfortable in.)

Kung Fu top: $30
Kung Fu pants: $40
Kung Fu set (top+pants): $60
Qi Gong polo top: $35
Qi Gong silk set (top+pants): $75

Is there parking?

Chinatown is part of Sydney's CBD so casual parking rates tend to be expensive. However, the following carparks have quite cheap flat rates if you enter after 5pm (ie. for the evening Kung Fu or Qigong classes):
Learn more about Kung Fu classes here and Qigong classes here.